#1 The first item on my bucket list (as well as many other people's) is a trip around the world. Here is info to get started......
t's the ultimate trip: circumnavigating the planet, and stopping off wherever takes your fancy. Great for travellers who want to see it all, or who are just plain indecisive. But booking a round-the-world (RTW) trip can be a complex business. Here's our guide to getting started.
How to do it
The most economical way to circumnavigate is to buy a round-the-world air ticket that uses one airline alliance. Theoretically, any routing is possible, but knowing how the RTW booking system works will make your trip cheaper. For example, the Star Alliance, a coalition of 27 airlines, offers a RTW ticket with a maximum of 15 stops. Its member airlines fly to 1185 airports in 185 countries.
There are rules: you must follow one global direction (east or west – no backtracking); you must start and finish in the same country; and you must book all your flights before departure, though you can change them later (which may incur extra charges).
How long you need
You could whip round the world in a weekend if you flew non-stop. However, the minimum duration of most RTW tickets is ten days – still a breathless romp. Consider stock-piling annual leave, tagging on public holidays or even arranging a sabbatical in order to take off two months, ideally six to 12. The maximum duration of a RTW ticket is one year.
When to go
The weather will never be ideal in all your stops. So, focus on what you want to do most and research conditions there: if a Himalaya trek is your highlight, don't land in
Nepal
mid-monsoon; if you want to swim with whale sharks off Western Australia, be there April-July. Then accept you'll be in some regions at the ʻwrong' time – though this might offer unexpected benefits (for example,
Zambia
in wet season means lush landscapes and cheaper prices).
Where to go
The classic (and cheapest) RTW tickets flit between a few big cities, for example London – Bangkok – Singapore – Sydney – LA. If you want to link more offbeat hubs (Baku – Kinshasa – Paramaribo, anyone?), prices will climb considerably. The cost of the ticket is based on the total distance covered or the number of countries visited.
Remember, you don't have to fly between each point: in Australia you could land in Perth, travel overland, and fly out of Cairns. Or fly into Moscow, board the Trans-Siberian train, and fly onwards from Beijing.
Pick some personal highlights and string the rest of your itinerary around those. For instance, if you're a keen trekker, flesh out a Peru (Inca Trail), New Zealand (Milford Track) and Nepal (Everest Base Camp) itinerary with Brazil (Rio's a good access point for South America), Australia and North India.
If budget's an issue, spend more time in less expensive countries. Your daily outgoings will be far higher in Western Europe and North America than South-East Asia; Indonesia, Bolivia and India are particularly cheap.
Tips, tricks & pitfalls
Talk to an expert before you book: you may have an itinerary in mind but an experienced RTW flight booker will know which routings work best and cost least – a few tweaks could mean big savings.
Be flexible: moving your departure date by a few days can save money; mid-week flights are generally cheaper, as are flights on Christmas Day.
Think about internal travel: it CAN be cheaper to book internal flights at the same time as booking your RTW ticket – but, with the global increase of low-cost airlines, you may find it better (and more flexible) to buy them separately as you go.
Be warned: if you don't board one of your booked flights (say, on a whim, you decide to travel overland from Bangkok to Singapore rather than fly it) your airline is likely to cancel all subsequent flights.
Jun 7, 2012 3:30:11 PM
Packing for a round-the-world trip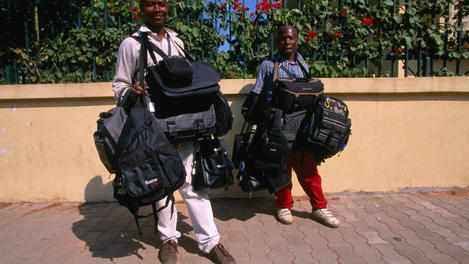 It's time to go! You're just days away from your one/two/four year round-the-world trip. Hell, why even set dates? You may never come back. Screw reality, accountability and personal hygiene! You're free!
Equally, if you haven't planned suitably, you may be back in two weeks due to illness, mishap, theft, or your companion ditching you for being an unforgivable travel liability. A big component of this planning involves sensible packing.
I've observed two distinct styles for round-the-world packing:
The Boy Scout – be prepared for anything
and
The Lifeboat Survivor – bring only enough to forestall death, or at least social ostracism
Like many seasoned travellers, I started as the former and, after much back pain and embarrassment, transformed into something closer to the latter. More recently, I've been re-inspired by Rolf Potts'
No Baggage Challenge
to pack even lighter.
Many astute tips like clothes rolling, multipurpose items and lightweight accessories have already been discussed in our earlier post about
hand luggage-only travel
. But for the long-haul trips, there's a few additional details to consider.
Bags: backpack or wheelie bag?
Answer: hybrid. Round-the-world bags reached a state of perfection with soft-sided, wheeled backpacks, with zip-off day-bags, like the
Victorinox Swiss Army
. The purists preaching that backpacking should be done with real backpacks have largely gone silent (probably too busy downing painkillers for their chronic back spasms). I've had my light-weight, wheeled backpack for six years and have only needed to use it in backpack mode twice. Save your energy for the adventure activities and let your bag roll.
Tech: how small can you get?
This continues to get easier as newer, smaller, more powerful gadgets that combine three older gadgets are released each year. A netbook, still/video camera, dynamic smartphone and Kindle, (gear that would have filled an entire backpack only five years ago), barely fills half a day-bag now. Don't forget data back-up accessories. Data loss, including critical information, journals and pictures, is the most common, and often most painful, mishap I've seen on the road.
Security: are you an impenetrable fortress?
Again, the pendulum of opinion swings wide. Aim for paranoid, complicated fortification (which can potentiallydraw more attention to your valuables) or lean toward inconspicuousness and common sense? Personally, I bring steel luggage locks, a mid-sized padlock for hostel lockers and mobile alarms for my tech. I like the small, light
Defcon 1 Ultra mobile alarm
, with motion sensor. None of these items are going to defeat a truly determined thief, but mild deterrents go a surprisingly long way.
Clothes: the laundry is your best friend
The logistics of clothes can be dizzying, what with changing seasons, hemispheres and altitudes that can occasionally carry you from winter to summer and back again in a matter of days. But you'll be surprised how little clothing you can get by on. Resist the urge to bring 21 pieces of underwear, 12 shirts, six pants and four pairs of shoes. You can easily get by on a third of that when combined with a reasonable laundry routine. And, unless your trip specifically calls for it, there's no need to pack for every possible weather contingency. If necessary, you can buy any important clothing, say for an impulse Everest summit, while on the road.
Furthermore, unless you're camping in the Sudanese desert for six months, prescription meds notwithstanding, you can acquire almost anything you need while on the road. So no need to pack six months of contact lens solution, batteries, pain relievers, laundry soap, etc.
Finally, a Swiss Army knife or a similar multipurpose tool is indispensable. Especially the corkscrew.